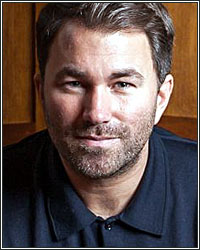 Now that talks with Caleb Plant have, apparently, died a bloody death, Saul "Canelo" Alvarez is looking elsewhere for a viable Mexican Independence Day opponent. 
In theory, the 31-year-old Mexican cash cow can fight pretty much anyone he wants to. The problem is that anyone worth fighting is going to be asking for a ridiculously blown-up payday and, because of that, talks will likely stall, and drag, and teeter on collapse no matter who gets pegged for the B-side role.
But before burying the earnest B-siders looking to cash-out against the red-headed Mexican star, let's point the finger of blame right where it belongs– at DAZN and their dumb business practices.
Back when the streaming service signed Canelo to an 11-fight, $365 million deal, the brain trust at the wannabe "Netflix of Sports," like a rich kid with an expensive tech toy he couldn't possibly learn to operate, failed at every turn in properly handling the intricacies of a major star's career. 
Every proposed opponent for DAZN's major-money superstar knew that the streaming service had no choice but to overpay for Canelo opponents because they desperately need name-value fighters for their biggest, most crucial investment. 
Daniel Jacobs reportedly got a way-too-sweet $14 million deal to fight Alvarez in May of 2019 and a minimum of $4 million in his next two fights. Jacobs' highest previous purse was a $1.75 million payout for his bout with Gennady Golovkin in 2017.
Sergey Kovalev reportedly earned around $12 million for his November, 2019 KO loss to Alvarez—six times his highest previous payout. 
Even lowly Rocky Fielding got just under $1.5 million for being thrashed by Alvarez as the Mexican's bonus soft touch opponent at the very beginning of his multi-fight contract.
Of course, this gouging of DAZN wasn't helped by the fact that DAZN's lead promoter, Eddie Hearn of Matchroom Boxing, was also in the mix, double-dipping, negotiating deals for his fighters (Jacobs, Fielding) to face Canelo– something which, at least in theory, gave him supreme leverage to boost Canelo B-side payouts. 
Even after Alvarez wriggled his way out of his DAZN deal (and his Golden Boy promotional contract), the pattern continued. Hearn, conveniently enough, worked his way into Alvarez's good graces, post-emancipation, signing him to a one-fight promotional deal to face Hearn's fighter, Callum Smith, and then a two-fight promotional deal to face Avni Yildirim and Billy Joe Saunders, another Hearn fighter.
With Hearn, again, double-dipping and exploiting the pattern of overpaying B-sides (that he helped create), he reportedly got Smith between $8 and $10 million for his Canelo fight and got Billy Joe Saunders $8 million. Both paydays wildly exceeded any of the fighters' previous payouts. 
And now, with the Plant deal dead and Alvarez's exploration of the world outside of DAZN/Hearn shut down for now, Hearn is bringing the Canelo B-side focus back to another fighter he represents. 
"I think Dmitry Bivol's the fight. He's ready. We promote him, we've spoken to Vadim [Kornilov], his manager, and [co-promoter] Andriy Rybinskiy, World Of Boxing, they want the fight, they've been looking for that breakout fight for some time," Eddie Hearn recently told iFL TV.
How convenient, right? 
From a Caleb Plant deal that seemed to be a no-brainer– one which, according to Plant, everything was already agreed upon from the B-side–  to a quick death and a move back to DAZN, against a Hearn fighter (with a pending deal to be, at least partially, negotiated by Hearn, himself). Again, how convenient!
While talks between Alvarez and Plant were in motion, lots of stories were floated to the media, none of which were meant to HELP negotiations. It was reported that Premier Boxing Champions, which represents Plant, wanted Alvarez to sign a 3-fight deal with them as part of the Plant package. Then it was reported that the Al Haymon company was willing to make it a one-fight deal. Then, stories floated  around that they were insisting on a 2-fight deal. 
As these things usually go in boxing media, none of this stuff was verified, but all of it was carried around as fact. But what we DO know is that, whatever happened behind the scenes, it killed Canelo-Plant, to the benefit of Eddie Hearn, who was ready and eager to pounce on an opportunity to: A) Keep  Canelo at DAZN and B) Try and get another inflated purse for one of his guys as Canelo B-side fodder. 
But business is Business, of course, and whatever happens, happens. I like both Plant and Bivol for Canelo. I think both opponents present distinct stylistic challenges and both carry with them their own intrigue. Having a fully unified super middleweight champ would've been nice, but, oh well. 
The only buzzkill coming from this latest round of Alvarez negotiations is that it's become really clear now that– promotional free agent or not– this money and power drama is going to be a permanent part of the Canelo dynamic for the rest of his career. 
Got something for Paul? Send it here: paulmagno@theboxingtribune.com