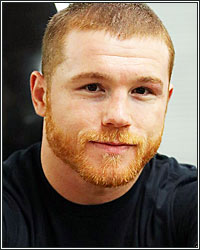 Mykal Fox vs. Gabriel Maestre? 
Now, THAT was a robbery.
When fans and media throw around the word "robbery" after a close fight goes to the perceived wrong guy, they do a real disservice to the true and way-too-frequent boxing thefts that do take place.
Saturday's horrendous unanimous decision win for Maestre over a fairly dominant Fox on the FOX PBC Fight Night co-main event should cause universal outrage and spur on some action against both the WBA and all three shit-head judges assigned to the interim welterweight title fight by the sanctioning body.
I had the fight scored 117-110 for Fox and, honestly, felt I was being somewhat generous to Maestre in giving him the three rounds I did. PBC official scorer Marcos Villegas gave Fox eleven of twelve rounds. 
But judges David Singh (114-113), John Mariano (115-112), and Gloria Martinez Rizzo (117-110) saw a completely different fight and gave the win to the now 4-0 Maestre. All of the scores were offensive, but Rizzo's 117-110 tally legitimately calls into question her mental faculties. Did she have a brain-muddling stroke just as the fight started? Seriously, medical staff should check on that woman.
It doesn't take much digging to figure out why this decision could've been so obscenely– and, IMO, intentionally– bad. 
Gabriel Maestre was an Olympic hero in Venezuela. The WBA used to be based in Venezuela and its president, Gilberto Mendoza Jr., is from Venezuela. 
That's enough fodder for an "aha, gotcha!" moment when it comes to a decision as clearly egregious as Saturday's. None of the judges assigned were from Venezuela, but we know that really doesn't matter. When it comes to garbage like this, you follow the stink trail of the sanctioning body. 
I seriously feel for Mykal Fox, who put on the performance of his career and should've ridden that performance to an interim title and a chance at bigger opportunities. 
Something needs to be done about this.
*     *     *     *     *     *     *
There's not much that's sure in this world and I'd be the first to tell you that, personally, I'm an expert at very little in this wild, wild universe. But I do know my shit when it comes to detecting bullshit. And, in this boxing business, having a well-honed BS detector is sometimes pretty damn tiring and frustrating, kind of like having a Geiger counter permanently shackled to your ankle as you sit through the Chernobyl meltdown. 
In this boxing writing gig, way too much of my time is spent telling people to not believe what they read in the boxing media and, then, in defending myself from mouth-breather attacks for being "biased" because I refuse to make sweeping character judgments based on media reports that I know to be highly dubious. 
What fans need to understand is that much of what we get served by the boxing media is strategically placed there. It's either straight-up propaganda/publicity or leaked potshots from one side of some boxing dispute. Finding the real truth in this muddled mess of fakery is like trying to have an orgy in a completely pitch-black, window-less storage locker– somebody's getting fucked for sure, you just can't tell who's screwing what. 
So, for me, until I hear from the fighters or those participants with real, first-hand knowledge of a particular situation, I don't even try to form an opinion. And, even then, not every fighter, trainer, etc. is a trustworthy source of untainted info. 
A case in point to this reality is this current Canelo Alvarez-Caleb Plant debacle. 
Not too long ago, the proposed September 18 Alvarez-Plant super middleweight unification bout was declared 100% dead. Talk shifted to a possible fight with light heavyweight titlist Dmitry Bivol. That possible Bivol fight then morphed into an almost "for sure" thing, even with details on a catchweight contractual clause leaked to the media. 
The serial Canelo critics hardly had a chance to cry about the catchweight when, POOF, the Bivol fight disappeared and, suddenly, the Plant fight was back on the table, with a new November date lined up.
Some of the more "credible" (i.e. SEO-friendly, higher-trafficked) sites said their info came from "multiple sources." But, honestly, those "multiple sources" could be any number of insiders wielding agendas and/or operating with a stake in the making (or killing) of Canelo-Plant. The pantsload covering the Canelo beat at RingTV/Ring Magazine was blown all over the place by the winds of fake news, running to post his fourth-grade reading level "news" stories after catching a whiff of every bit of bullshit floated his way. But I guess that's what you get when you can only afford a typist and not someone who actually knows what the hell he's talking about.
At any rate, when it comes to the Canelo-Plant drama, a horse's mouth has spoken.
Alvarez's trainer and manager, Eddy Reynoso spoke to The Athletic on Friday, setting the record straight that the Bivol fight was not happening and that Team Alvarez is still focused on making the Caleb Plant fight.
"The project we have before us now [is] to unify at 168. We are working real hard on this, and hope to get all this together," Reynoso told The Athletic through a translator.
This talk from Reynoso puts thing back into the realm of reality and effectively wipes out more than a week-and-a-half of misinformation and general media incompetence. 
Where we go from here is anyone's guess. I'd wager that Canelo-Plant DOES happen in November. But, of course, nothing is for sure in the world of boxing and bumpy rides are assured when so much money (and business) is on the table. 
But there's one thing we CAN be sure of– the boxing media will continue to be corrupt, inept, gullible, and just all-around shitty. 
Got something for Paul Magno? Send it here: paulmagno@theboxingtribune.com