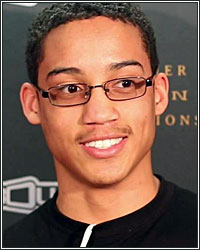 Well before Mykal Fox and Gabriel Maestre stepped into the ring this past Saturday at The Armory in Minneapolis, Minnesota, the fix seemed to be in. 
And as details emerge about how much sleaziness was involved in ensuring a win for Maestre, it's clear that this robbery deserves much more than the "boxing is so bad…something must be done" lament typically issued by fans and media after things like this happen.
Aside from Maestre somehow getting a WBA interim world title shot in just his fourth pro bout and coming into the ring with illegally taped gloves that "somehow" got approved by the commission (and later had to be re-taped in the ring, thanks to the keen eye of Fox's corner), Team Maestre, according to commentator/PBC unofficial judge Marcos Villegas, actually had a WBA official working their corner. 
Then, there's the main course of this diarrhea dinner of scumbaggery– the judging. 
This botched scoring job was not just a case of incompetence in need of a review. The three judges scorecards issued– David Singh (114-113), John Mariano (115-112), and Gloria Martinez-Rizzo (117-110), all in favor of a Maestre who, maybe, won two or three rounds of twelve– were so horrendously bad that there had to be some kind of intent behind them. There's just no way ANYONE could be THAT incompetent and still find their way on to an airplane to make a judging gig. 
At first, I thought in more general terms about this garbage decision. Maestre was a two-time Olympic hero representing Venezuela. The WBA used to be based in Venezuela and its president, Gilberto Mendoza Jr., is from Venezuela. For me, that was enough to raise suspicion. 
But things have gotten much more specific in the days following this fight.
Thanks to the research of boxing commentator Dan Canobbio, it was uncovered that judge Gloria Martinez-Rizzo is married to WBA executive Ricardo Rizzo who, per Canobbio, has a hand in hiring judges for the WBA. Boxingscene columnist Corey Erdman also uncovered Martinez-Rizzo's long history of posting vile, racist material on social media. 
Gloria's hubby Ricardo, by the way, has a history of buffoonish corruption. According to a first-hand account published at The Sweet Science website, he once allegedly asked a fighter's management for a $10,000 "donation" to get their guy a number one ranking. When asked what the money was for, he said that it was for "pens and pencils" at the sanctioning body's upcoming convention. 
This "pens and pencils" story became public knowledge almost 20 years ago and it absolutely did not impede the WBA from embracing Rizzo as an executive in good standing. It's doubtful that this latest outrage will generate any sweeping changes in the sanctioning body. But, of course, WBA president Gilberto Mendoza Jr. had to at least offer some lip service.
"We are going to take a closer look at the judging overall, because something has obviously gone wrong, so we are looking into it," Mendoza told RingTV. "We have to get new judges. I'm really concerned with what is happening.
"This controversy has released a red flag and it has alerted me. We need to make this clean for the public."
Apparently, Mendoza then tried to pass the buck to the Minnesota Athletic Commission, insisting that they were the ones who approved the judges for the bout. But, as anyone with a working knowledge of the selection process for officials knows, that is a bunch of horse shit.
The judges "approved" by any state athletic commission are generally selected from a list of judges first approved by the sanctioning body. And, in a fairly weak commission like Minnesota's, it's a fair assumption that the state leans heavily on the "guidance" of the sanctioning body when it comes to the selection of officials. A commission supervisor signing off on Maestre's illegally wrapped gloves is a dead giveaway that Minnesota is not a strong commission. 
Mendoza's instinct will be to enact some minor changes, talk some heavy words, and then sweep everything under the carpet while keeping his organization's operating system intact. His recent proposal to cut down the ridiculous number of world champions in the WBA is utterly meaningless if he can't guarantee legitimate, fair judging. For crissake, he could at least try, a little, to cover up his screw jobs.
The real, direct losers in this mess are the fighters. Mykal Fox, who turned in the performance of his career as a late replacement, should've ridden that performance to an interim title and a chance at bigger opportunities. Meanwhile, Gabriel Maestre, who is a very good fighter and put in an honest effort, gets pegged as a villain and co-conspirator in this blatant robbery. 
So, what can be done about this?
Hell if I know. I've been writing about reform in boxing for almost two decades now and nothing put to paper (or screen) ever garners any traction. What DOES happen is frustration…and a slow, but steady, stream of fans who walk away from the sport because, so often, the fix seems to be in and nobody ever does anything about it.