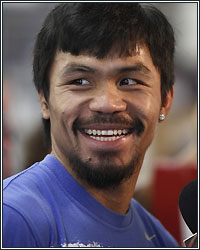 Every Thursday here at FightHype, boxing fans gather around my bulbous, bulging sack in anticipation of an Ol' Faithful money shot of gooey, salty truth. This Thursday is no different. So, put your goggles on and cinch up your plastic poncho, here it comes. This week, we have comments/questions regarding Pacquiao-Ugas and the future of Errol Spence.
Spence Out, Ugas in
Hi Paul.
What a damn bummer! Errol Spence has pulled out of the Manny Pacquiao fight with a retina tear. Are they saying if the injury was sustained in sparring or do you think it could be a holdover from that car wreck he had? Whatever the case, Yordenis Ugas is the late replacement and the August 21 date is still preserved. I think Ugas is a solid fighter and he's deserving of the big fight, but forgive me if I'm still suffering extreme letdown from this turn of events. 
– Simon
Hey Simon.
According to Spence's trainer Derrick James, they're not really sure when the injury happened or how it happened. All they know is that the retinal tear was discovered in a pre-fight physical and will require surgery. It could very well be that Spence's retina was weakened or somewhat frayed in the October, 2019 accident and that the regular stress suffered in sparring led to the tear. But that's just conjecture on my part. The only thing we DO know is that the fight is off and, yeah, that's a real bummer.
As late replacements go, however, Ugas is a real good choice. The Cuban was jobbed in his only "big" fight with Shawn Porter and does deserve a shot at next-level advancement. IMO, he should account well for himself against Pacquiao. Still…I don't blame anyone for feeling a major letdown. 
Ugas vs. Pacquiao: An Early Look 
Magno.
Now that Yordenis Ugas gets the big fight, how well do you see him doing against Pacquiao? I think Ugas is good, maybe top 7 or 8 good, maybe even a little higher, but I just can't see him beating Pacquiao or even doing all that much against him? How do you see this fight playing out?
– Juan C.
Hey Juan.
I'd say that 7 or 8 is a bit low for Ugas, to be honest. If I was going to put together ratings at 147, based on ability and accomplishment, I'd probably rate him about 4 or 5, behind Pacquiao at no. 3. So, at least on paper, Pacquiao-Ugas is a quality pairing. It's just that, stacked up against the weight of Pacquiao-Spence, it feels like a letdown.
Stylistically, the fight presents its own unique intrigue. Ugas is skilled and adaptive in the ring with a sharpness that has improved along with his level of opposition. His best offensive weapon may be his near-overhand right– something which should be effective against the southpaw Pacquiao– and he's good at maintaining optimal distance in his fights. He's also a wicked body puncher. 
Ugas' downfall may be his preference for order and a controlled pace. He's fallen apart a bit in the past when things come at him from odd, unorthodox angles or when some chaos is brought into the fight. Pacquiao, as we know, is ALL unorthodoxy and weird angles, with occasional bursts of chaos. 
Ugas will have to focus on keeping the fight at his preferred distance and controlling Pacquiao's jump in-jump out aggression. He did manage to accomplish that against Porter, so it's certainly within the realm of possibility that he could do the same against Manny.
I like Pacquiao-Ugas, but, of course, I liked Pacquiao-Spence more.
Is Spence Done?
Hi Paul. 
I know the guy is only 31, but it seems to me that Errol Spence has a lot of mileage on that body of his.  I just didn't see him right when he fought Danny Garcia and I don't see him at 100% in his interviews or public appearances anymore. I think that car crash took a lot out of him, whether he cops to that or not. Since that crash, I'm not the only one to see that something's off about the man. This retina injury  may or may not be an indirect result of the crash, but it for sure adds even more mileage to him. I think Spence may be a case of being done before he's even peaked as a fighter and that's sad because he was a real one.
– Marcus from Reno
Hey Marcus.
I don't know. I agree that we didn't see him at his best against Garcia. But that easily could've been because of ring rust. Remember, he hadn't fought in 15 months and was away from the gym completely, recovering from his injuries, for a good chunk of that time. Plus, Danny Garcia presents a huge degree of difficulty for anyone, but especially someone coming back from a long layoff and significant injuries. To be honest, I haven't compared Spence interviews from before the crash and after it, so I can't really give you an informed opinion there.
It would indeed be tragic, though, if that wreck did bring about a quick decline. I agree that Spence is/was a "real one." But if he's not all there anymore, he'll have a tough time dealing with Pacquiao, Crawford, or even Porter a second time. I'm hoping this "he's done" stuff is all a figment of some imaginations.
Got a question (or hate mail) for Magno's Bulging Mail Sack? The best of the best gets included in the weekly mailbag segment right here at FightHype. Send your stuff here: paulmagno@theboxingtribune.com.